RV Skirting in Summer: Does it Help Keep My Camper Cool?
Most people who have used an RV for any length of time are familiar with a skirt. For those who may not know, an RV skirt is something placed around the base of your travel trailer, fifth wheel, or coach to protect the underside and provide insulation. The reason most people think to use skirting is to keep their pipes from freezing since RV floors are typically not well insulated. One thing we hear most often from our AirSkirts customers is, "my feet were warmer the first night!" What about summer though, is it worth skirting in warm weather? Does it help keep my camper cold? Let's dig into these questions a bit.
Should I skirt my RV in the summer?
Yes, you should skirt your RV in the summer, during warm weather to 1) help you keep your interior cooler, 2) save on energy costs, and 3) reduce wear and tear on your A/C.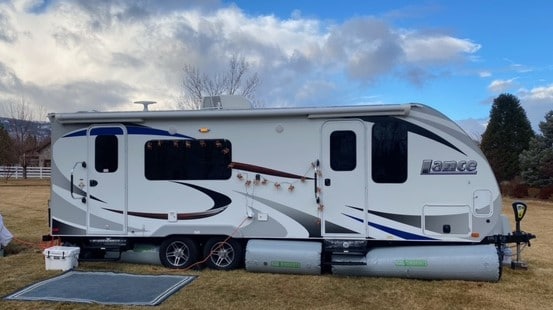 RV skirts will help save on energy costs and prevent your AC from working so hard by holding the cold air that sinks through the floor in place and preventing the warm air from reflecting off the ground/pavement into your underbelly. By preventing the hot air from going underneath and the colder air from being whisked away, your environment will stay cooler, so your AC won't be running constantly or cycling on as frequently.  Energy use and A/C maintenance can be a burden for summer campers and the cost of electricity is always increasing. The average life expectancy of an RV air conditioner is about three to five years and the cost to replace one averages $1100-$2100 and can be upwards of $3000, depending on the model. Given that most rigs have two or more, this can be quite pricey.
More Tips for Keeping Your Camper Cold
Other ways to help cut down on summer cooling costs are to park in a shady spot whenever possible, use Reflectix to cover bedroom windows on the sunnier side of the rig to keep them cooler, and use our AirLights to insulate your skylights while still letting in the sun.
Closing Thoughts
Get out there, get a skirt (check ours our here!), and enjoy your rig in in all seasons.
The way AirSkirts works so well is the two thick layers of PVC coated canvas provide great insulation, plus they're backed up by a large cushion of trapped air. These layers hold in the air that leaks through the floor of your RV. Skirting actually turns the poorly insulated floors of most RVs into a benefit. Or if you have a "four season" camper, the heated tanks will help keep the entire underbelly much warmer, protecting your pipes, saving energy, and keeping you more comfortable.
And because AirSkirts only takes about 20-30 minutes to set up and break down, it makes sense even for weekend trips.