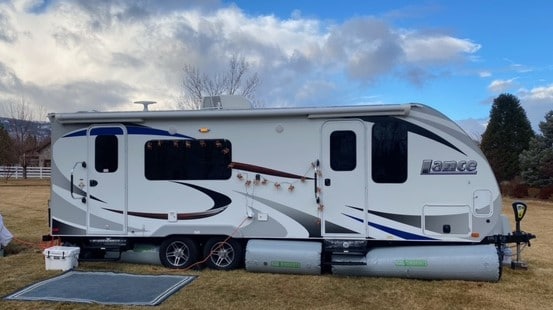 AirSkirts® Inflatable RV Skirts work for any travel trailer make, whether it's a Winnebago, nuCamp, Happier Camper, Avia, Casita, Keystone, Grand Design, Jayco, Forest River, Airstream, or any other travel trailer brand. Designed by a full time RVer, AirSkirts fit like a glove no matter what model you have (if you have a fifth wheel, motorcoach, or toy hauler, AirSkirts work great for those too!).
AirSkirts work for any travel trailer
Whether you have a nuCamp TAB 320S teardrop camper, Happier Camper HC1, Casita Spirit, Winnebago Micro Minnie, Jayco Jay Flight, Keystone Hideout, Forest River Alpha Wolf, Grand Design Reflection, Airstream Classic, or any other travel trailer, AirSkirts will help protect your RV year-round. Just select the kit that fits your RVs length and ground clearance.
Use and protect your travel trailer year-round
Now, with AirSkirts, you can extend your camping season or set yourself up for full time living in any climate. RV skirts are a must for any RV in freezing temperatures. AirSkirts do such a good job at insulating and protecting your RV – heat dissipating through the floor is retained by AirSkirts, creating a warm cushion of air under your rig that keeps your water running and keeps you comfortable. Even better – AirSkirts work year round, saving energy and maintaining your comfort in warmer months by conserving air conditioner energy use.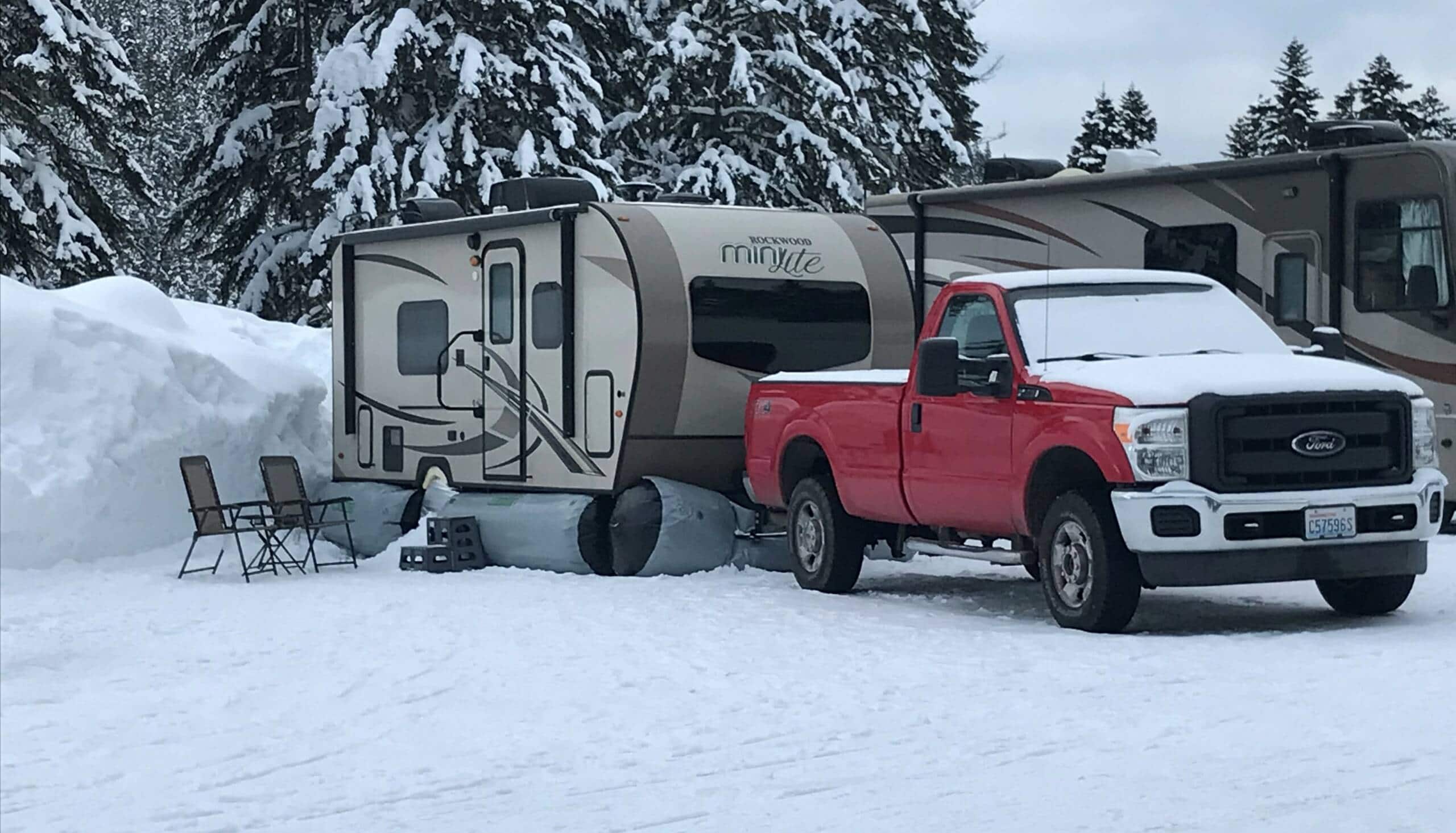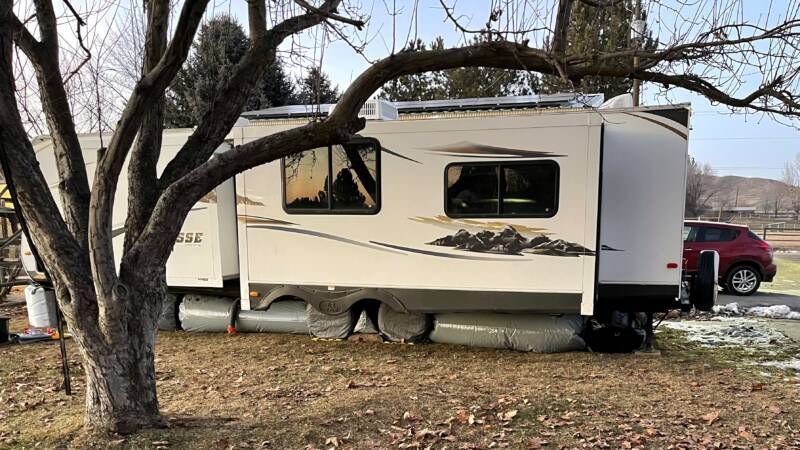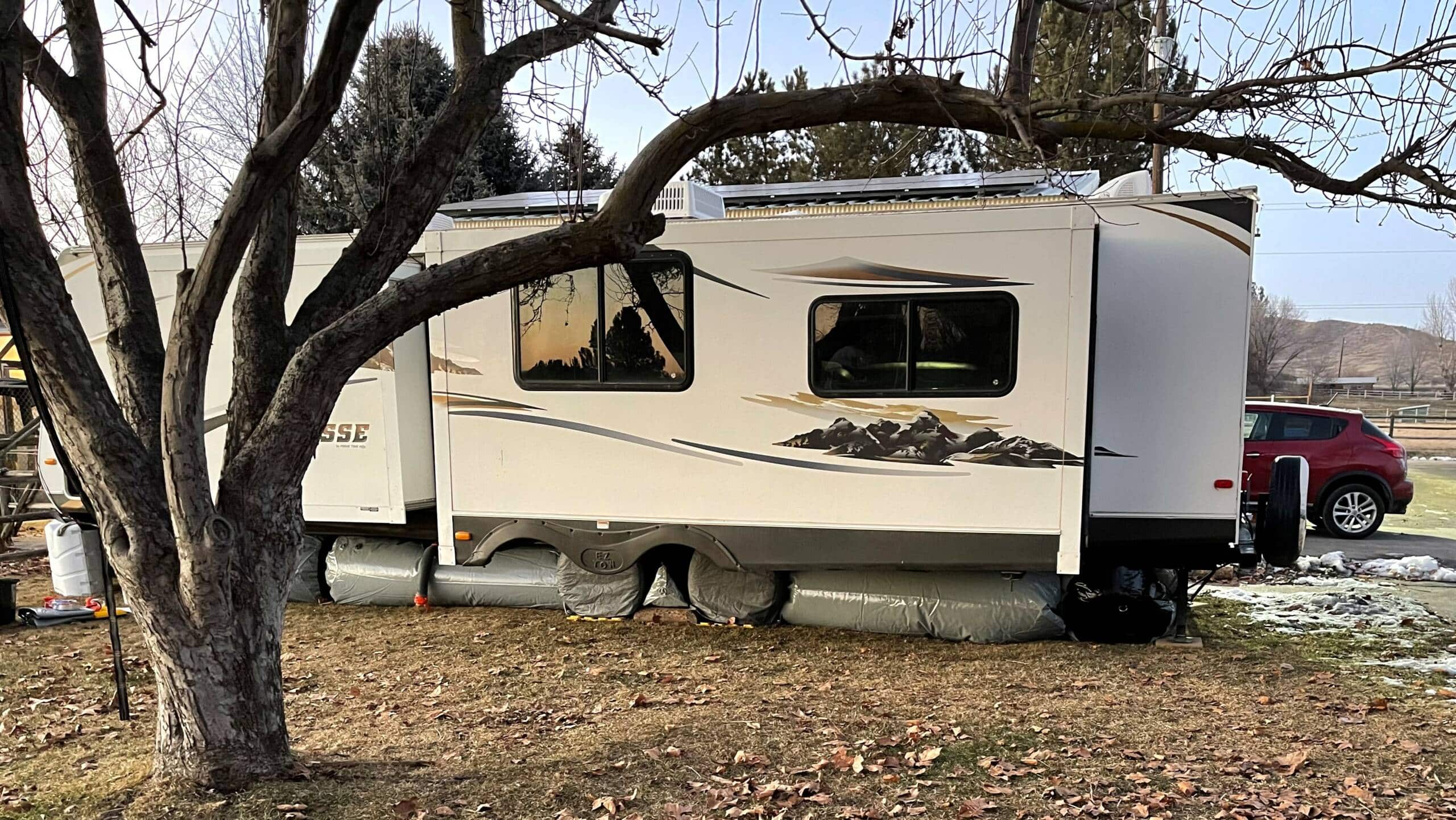 Damage to your RV from frozen pipes is very costly
Damage to any RV from freezing pipes is expensive and disruptive to your life. When considering the cost of damage from frozen pipes or a flood, also consider how long you will be displaced from your RV. It's also worth noting that most insurance companies won't cover damage due to frozen pipes.
Reviews from travel trailer owners using our skirts
I bought airskirts because I had not planned to be stuck in the Pacific NW for the winter and needed a solution that could be put up and down quickly. My trailer is built to boondock so I planned to be south before freezing but had a family medical emergency that meant my 5 week stay was now going to be 5 months. I need to drive about an hour and a half round trip every 4 weeks to dump my holding tanks and can get these down or back up in 10-15 minutes.
.
Raelyn (Palomino Revolve EV2 Travel Trailer)

RV/Skiing at Stevens Pass Wa. At night it almost got down to single digits but we were cozy worm with help from a space heater and our AirSkirts.
Donald (Rockwood Mini Lite 1905G Travel Trailer

I recommend AirSkirts. Their staff is friendly and helpful. They got my package out to me in 2 weeks from order. The set up was just what they said it would be and the extra pillows they recommended for my unit complete the fit perfectly. I did a temperature check under the trailer with the skirts in place when it was -25c. With just 1 small ceramic electric heater the temperature remaind at 0c. I would say that they do everything that they claim they do. Very satisfied. Thanks AirSkirts!
Rob (2011 Forest River 2501S Ultra lite Rockwood Travel Trailer)

Recommended accessories for your travel trailer
Recently Skirted travel trailers:
AirSkirts are designed to fit all RVs, here are just a few travel trailers that are using AirSkirts:
2014 Outdoors RV Blackstone 24RKSB
2014 Casita Spirit Deluxe
2021 Keystone Passport 2820BH
2018 Winnebago Drop 1710
2018 Vanleigh Vilano 365RL
2021 Intech Sol Dawn
Travel Trailers – Related Posts from Our Blog
List of RV Manufacturers We've looked at fifth wheel manufacturers, travel trailer manufacturers, and motorhome manufacturers, now it's time we put it all together and look at RV manufacturers as a whole. I was recently reading "Are European RVs Finally Coming to the USA?" so I've even included some RV brands from across the pond but made that list separate to the USA/North American manufacturers one as almost all of our readers will be from North America. Jump to the section [...]
List of Travel Trailer Manufacturers / Brands Travel trailers, alongside Fifth wheels and other towables represent an increasing majority of annual RV shipments. Within this large segment, there are considerably more manufacturers/brands of traditional travel trailers as compared to this list of 5th wheel manufacturers that I put together a couple weeks back. Their popularity is a result of several factors including their comparative affordability, wide range of available sizes including very small "tear drop" campers to +30 footers like the [...]
AirSkirts LLC is not affiliated with any travel trailer manufacturer.