Where Are RVs Manufactured? Looking at Elkhart and Beyond.
Below we take a look at the places that have the most RV manufacturers (it's not all Elkhart!) as well as where popular manufacturers and brands like Forest River, Grand Design and more, make their RVs.
Previously we listed RV manufacturers and broke them down by fifth wheels, travel trailers and motorhomes (Class A, Class B, and Class C). In doing so, we were able to collect a lot of information about the location of RV manufacturing operations and below we'll slice that data a few ways to get a better understanding of where RVs are made. The methodology used was simply to get the most in depth list possible of RV manufacturers, along with their location. This resulted in a list of 91 RV Manufacturers in the USA to work with, though there are likely more that make up the 280 total manufacturers reported by Bish's here and the 604 RV manufacturing (likely including suppliers) reported by IBISWorld here. Then location counts were divided by the total count of 91 to get the percentages in the charts below. Location data was taking either directly from company websites or from Google Maps. Let's get to it.
RV Manufacturer Locations
What State Makes the Most RVs
By any measure, Indiana is where most RV manufacturing is done. According to Thomas, about 85% of all RVs made, are manufactured in Indiana. You'll see below, we calculate that about half of all RV manufacturers are located in Indiana and with heavyweight conglomerates Forest River and Thor there, it foots that 85% of RV units made would come out of this city of 53,949 people.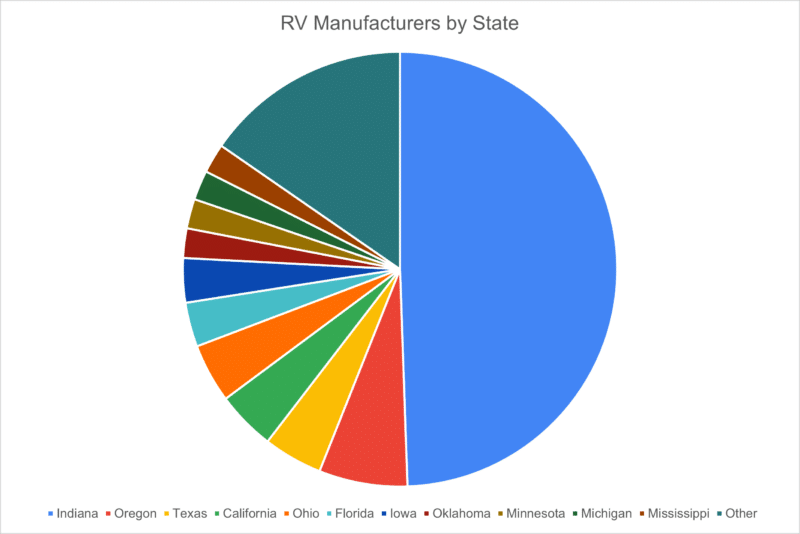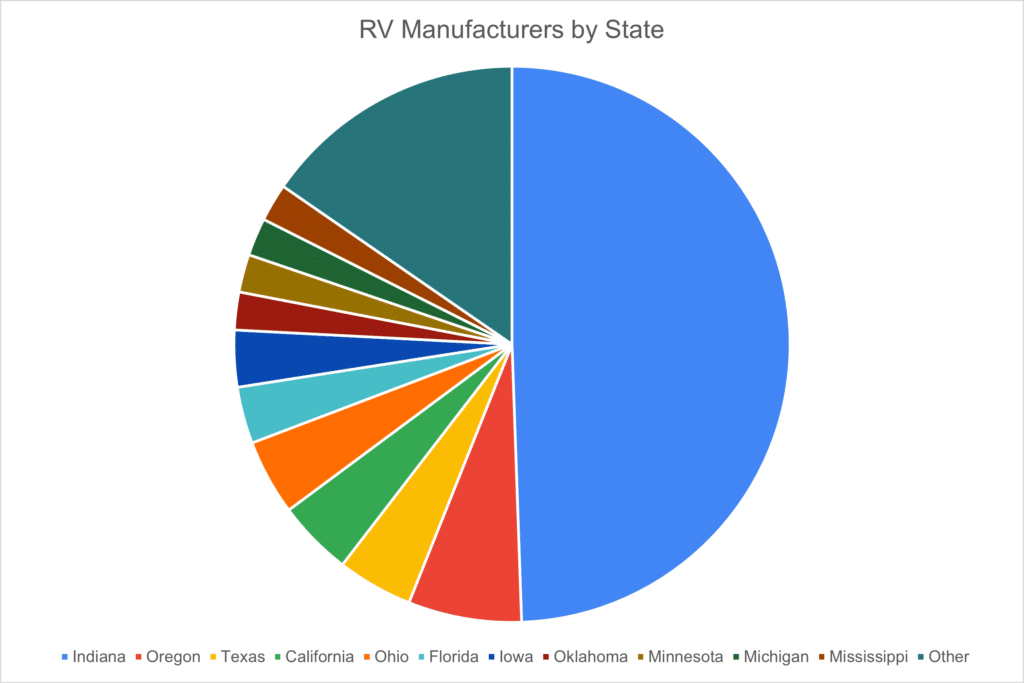 Top 10 States with RV Manufacturers
Indiana: 45
Oregon: 6
Texas: 4
California: 4
Ohio: 4
Florida: 3
Iowa: 3
Oklahoma: 2
Minnesota: 2
Michigan: 2
What City Makes the Most RVs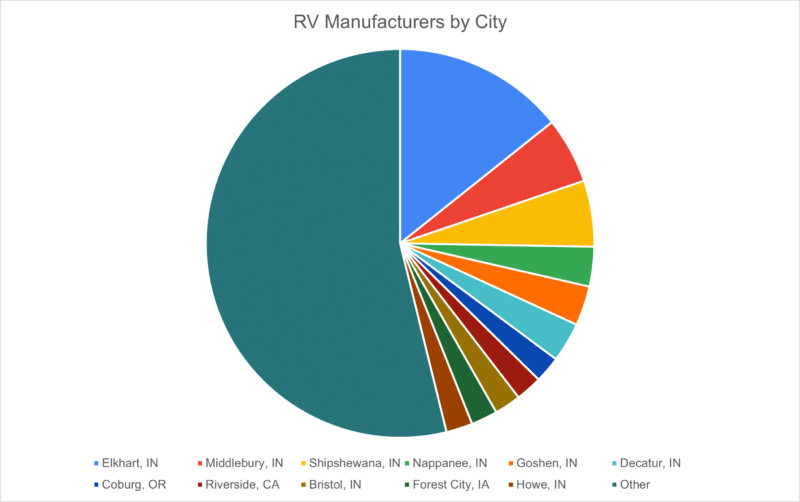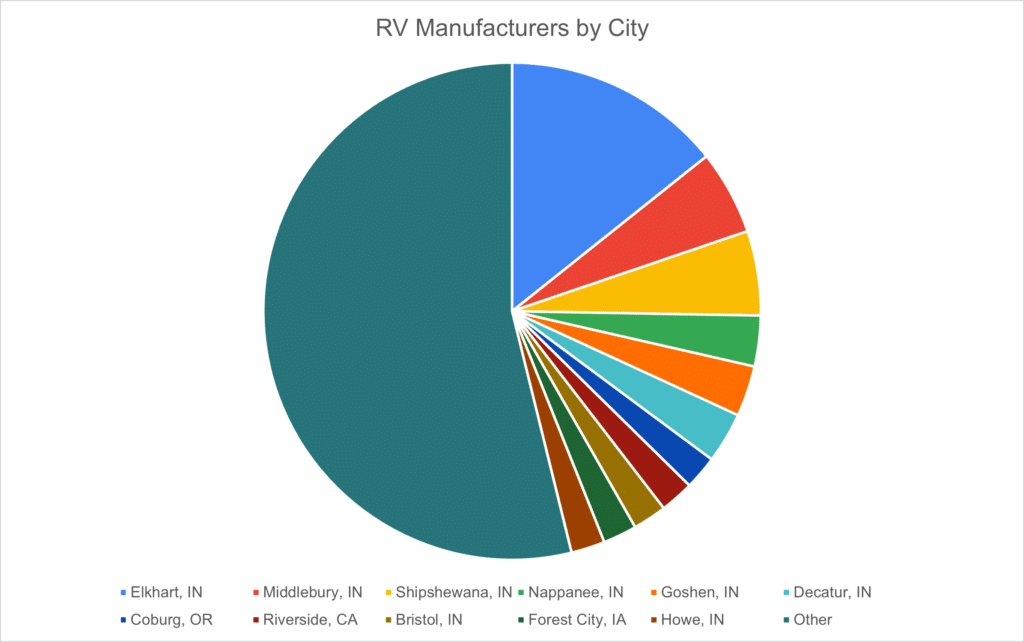 Elkhart, IN: 13
Middlebury, IN: 5
Shipshewana, IN: 5
Nappanee, IN: 3
Goshen, IN: 3
Decatur, IN: 3
Coburg, OR: 2
Riverside, CA: 2
Bristol, IN: 2
Forest City, IA: 2
Howe, IN: 2
Elkhart, Indiana stands at the top of the list with well over double the amount of manufacturers as the second place cities. All of the top ten cities are from Indiana with the exception of Coburg, OR, Riverside, CA, Bristol, IN, and Forest City, IA at the bottom.
Closing Thoughts
Though Elkhart, Indiana does prove to be the RV Capital of the World (at least for manufacturing, destinations are a different story!) with Indiana being the leading state as well. This is nothing we didn't already know, but it was interesting to view it from the perspective of manufacturer locations and not units produced, which is typically how this is reported.
Are we missing any manufacturers or have the location wrong? Please let us know in the comments below or email me directly at chad@airskirts.com.
Additional Reading
How Elkhart Became The RV Capital of The World
Why the Amish Are Building America's RVs
Where are RVs Made?
Data
Count of RV Manufacturers by State
| | |
| --- | --- |
| Row Labels | Count of State |
| IN | 45 |
| OR | 6 |
| CA | 4 |
| OH | 4 |
| TX | 4 |
| FL | 3 |
| IA | 3 |
| OK | 2 |
| MN | 2 |
| MI | 2 |
| MS | 2 |
| KS | 1 |
| UT | 1 |
| TN | 1 |
| AR | 1 |
| WI | 1 |
| NC | 1 |
| PA | 1 |
| NV | 1 |
| CO | 1 |
| NY | 1 |
| WA | 1 |
| IL | 1 |
| ID | 1 |
| GA | 1 |
| Grand Total | 91 |
Count of RV Manufacturers by City
| | |
| --- | --- |
| City | Count of Location |
| Elkhart, IN | 13 |
| Middlebury, IN | 5 |
| Shipshewana, IN | 5 |
| Nappanee, IN | 3 |
| Goshen, IN | 3 |
| Decatur, IN | 3 |
| Coburg, OR | 2 |
| Riverside, CA | 2 |
| Bristol, IN | 2 |
| Forest City, IA | 2 |
| Howe, IN | 2 |
| Nokomis, FL | 1 |
| Wakarusa, IN | 1 |
| Burnsville, MS | 1 |
| Chicago, IL | 1 |
| Milford, IN | 1 |
| Coalville, UT | 1 |
| Peru, IN | 1 |
| Backus, MN | 1 |
| Syracuse, IN | 1 |
| Colon, MI | 1 |
| Miami, OK | 1 |
| Columbus, IN | 1 |
| Nacogdoches, TX | 1 |
| Cromwell, IN | 1 |
| Ocala, FL | 1 |
| Dacono, Colorado | 1 |
| Reno, NV | 1 |
| Belmont, MS | 1 |
| Sugarcreek, OH | 1 |
| Bend, OR | 1 |
| Uniontown, OH | 1 |
| Emmett, ID | 1 |
| Centerville, MI | 1 |
| Euclid, OH | 1 |
| Brinkley, AR | 1 |
| Eugene, OR | 1 |
| Milwaukee, WI | 1 |
| Bluff Dale, TX | 1 |
| Allen, OK | 1 |
| Fort Valley, GA | 1 |
| North Huntington, IN | 1 |
| Fort Worth, TX | 1 |
| Perris, CA | 1 |
| Bowlus, MN | 1 |
| Pilot Mountain, NC | 1 |
| Hohenwald, TN | 1 |
| Rice, TX | 1 |
| Albany, OR | 1 |
| Cedar Falls, IA | 1 |
| Jackson Center, OH | 1 |
| Summerfield, FL | 1 |
| Junction City, KS | 1 |
| Topeka, IN | 1 |
| Kelowna, BC | 1 |
| Vermontville, NY | 1 |
| La Grande, OR | 1 |
| Yakima, WA | 1 |
| LaGrange, IN | 1 |
| Lancaster, CA | 1 |
| Grand Total | 91 |